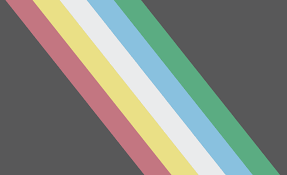 Disability Pride Month July 2023
Originating in the US in the 90's, Disability Pride Month is now celebrated around the world.
2 months ago
by
Virginia Fordham
The main features of the month-long celebration include:
Disability Pride Month is observed annually and worldwide during the month of July.
It is used to promote awareness of disability as an identity, community and culture and the positive pride felt by disabled people.
It directly challenges systemic ableism and the discrimination that disabled people face every day.
The disability pride flag and disability pride month colours are a unique and direct representation of the disability community, focusing on inclusion, similar to the LGBTQI+ pride flag. The original disability pride flag was designed by Ann Magill, featuring a brightly-coloured lightning bolt on a black background.
With the feedback that the disability pride flag colours could negatively impact people with epilepsy, Magill redesigned the flag with muted colours symbolizing the diverse facets of daily life for people with disabilities.
Charcoal gray background: In memory of the victims of ableist abuse and violence, including children or those killed, suicides, or individuals who suffered from negligence.
Diagonal band: Cutting across the barriers blocking people with disabilities from full participation, integration, and inclusion in society
Red stripe: Physical disabilities (chronic pain/fatigue, mobility impairment, loss of limbs)
Gold stripe: Neurodivergence (autism, ADHD/ADD, learning difficulties)
White stripe: Undiagnosed and invisible disabilities
Blue stripe: Psychiatric/Psychological disabilities (depression, Bipolar, Schizophrenia, PTSD, FASD, anxiety)
Green stripe: Sensory disabilities (hearing loss, visual impairments)
You can find some history behind this important celebration on Wikipedia.
Here in New Zealand, through the New Zealand Disability Strategy, we have adopted the social model of disability. This draws on a human rights discourse, defining disabled people as an excluded or oppressed social group. It distinguishes between the impairments that people have and the barriers to social participation that they experience. The New Zealand Disability Strategy promotes the participation and leadership of disabled people in society, with the same access to opportunities as non-disabled people.
If you are interested in learning more about the New Zealand position taken in the NZ Disability Strategy, including key disability definitions, please refer to these two links from the Office of Disability Issues:
Guidance for policy makers
Things you should know: Definitions, concepts and approaches
Happy Disability Pride Month everyone!