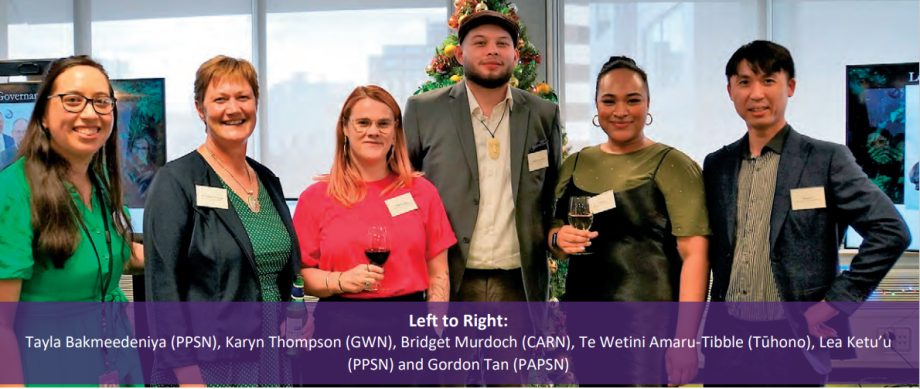 Introducing Tui Raumata
8 months ago
by The ELN Team
Tui Raumata is a cross-agency Employee-led Network governance rōpū set up and supported by Te Puna Huihuinga Kaimahi, the Employee-led Network Team hosted at Te Kawa Mataaho, The Public Service Commission.
The purpose of this group is to connect cross-agency employee-led network representatives to enable communication, understanding, collaboration and partnership. This will ensure maximum opportunities to influence and impact Public Service practice and policy to create a fairer, more equitable and inclusive Public Service reflecting the communities served by employee-led network members.
Employee-led networks have existed within many Public Service agencies for some time. In more recent years, there has been an increase in the number (and visibility) of cross-agency employee-led networks. These networks aim to reflect intersectionality and encourage employee connection and collaboration across the Public Service. There are now seven established cross-agency employee-led networks that Te Puna Huihuinga Kaimahi work with closely. These include:
Cross-agency Rainbow Network (CARN)
Government Women's Network (GWN)
Pacific Public Servants Network (PPSN)
Pan Asian Public Sector Network (PAPSN)
Public Service Futures (PSF)
Tūhono - The Māori Public Sector Network 
We Enable Us Disability Network (WEU)
The Name
The name Tui Raumata was gifted to the rōpū of cross-agency employee-led Network leads and representatives by Tūhono kaumātua, Mohi Apou, Chief Advisor Māori, Worksafe. It is a taonga to be treasured by the rōpū.
"Tui Raumata" 
Tui - to lash, to sew together, to bind
Raumata - Mesh or net
When the two words are combined it suggests a dynamic that is called "Woven Tapestry" which is a metaphorical sense for the word synergy.
In effect, it describes the intent of our group, to work in cooperation to produce a combined effort greater than the sum of our separate parts. Weaving together and collective strength. Kotahitanga.
The rōpū
Cross-Agency Rainbow Network
Bridget Murdoch – Ministry for the Environment
Theresa Peters – Ministry of Social Development
Government Women's Network
Fathima Iftikar – Ministry for the Environment
Anita Edwards – Ministry of Justice
COL Karyn Thompson – NZDF
Pan-Asian Public Servants' Network
Gordon Tan – Treasury
Farhat Shaikh – NZ Qualifications Authority (NZQA)
Pacific Public Servants' Network
Helen Karati – Te Kawa Mataaho Public Service Commission
Simi Finau – Ministry of Social Development
Public Service Futures' Network
Hana Wong – Ministry of Health
Alex Williams – Department of Prime Minister and Cabinet
Tūhono
Karaitiana Wilson – NZTA
Rachael Thwaites – Te Tumu Paeroa - Office of the Māori Trustee
We Enable Us
Rawa Karetai – Whaikaha (MoDP)
Karen Davidson – Kāinga Ora Homes and Communities
The objectives
Connect cross-agency employee-led network representatives
Demonstrate commitment to Māori, Te Tiriti o Waitangi and its principles
Raise the profile of cross-agency employee-led networks to increase awareness of their mahi and understanding of how they contribute to positive systems change across the Public Service
Identify and address common challenges and opportunities impacting cross-agency networks and their members
Maintain oversight of Public Service systems-wide initiatives and changes impacting on cross-agency networks and their members
Enable cross-agency employee-led network leads to be involved in and/or provide expert advice for public policy and practice decision-making
Escalate and request support for cross-agency employee-led network initiatives, including where additional resources are required